Product Focus: Stairlift Rentals
10th June 2015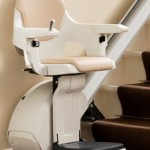 We understand that there is sometimes a need for temporary stairlifts. Often or not people want something flexible and cost effective without the cost of buying a stairlift – which is why we offer rentals which start at as little as £10 per week.
We work with all top manufacturers so have a wide range of up-to-date reconditioned models. If this is something you're considering, we will send one of our trained engineers to complete a full free survey of your stairs so that you get the correct stairlift model for your home. All of our rental stairlifts come with call out and maintenance service within 24 hours included in the rental charge.
All of our rented stairlifts are fitted with folding manual swivel seat, fully upholstered and with remote controls. We also have powered seats, hinges and footrests are available. If you decide you want or need to keep the stairlift, there is an option to buy.
Rental prices
Straight stairlifts
A down payment of  £350 plus £45  then a monthly rental fee of £45.No minimum rental term. Only 1 month's notice is required to end the rental.
Curved stairlifts
| | Down Payment | Monthly Fee |
| --- | --- | --- |
| 1 bend | £1695 + £55 | £55 |
| 2 bends | £1995 + £55 | £55 |
| 3 bends | £2295 + £55 | £55 |
| 4 bends | £2595 + £55 | £55 |
5 or more bends: Price on application6 month minimum rental term then only 1 month's notice is required to end the rental.All down payments include the cost of fitting the stairlift and removing it when you no longer need it.
For more information please phone 0808 178 8487 or email enquiries@a1stairlifts.co.uk