A1 Stairlifts Calling Golfers For Charity Golf Day
20th August 2014
A1 Stairlifts is sponsoring a charity golf day in association with MJK Sports Events and is calling for teams to join in to help raise funds for Community  Cougars Foundation! The event is teeing off on Thursday 18 September at Keighley Golf Club in West Yorkshire.
The day starts with soup and sandwiches served 12-12:30pm with a 1:30 shot gun start. Teams of 4 with 2 to count.
The event will be topped off with a two-course meal followed by a talk from rugby league legend Garry Schofield OBE, comedian, mini auction and raffle.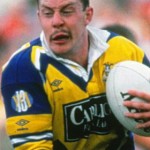 Picture from The Sun.
There's already been huge amount of interest so there is limited places left – don't miss out!
Community Cougars Foundation aims to utilise the ower of sport to inspire, educate and motivate the community within Keighley and Craven. Working with partners such as Bradford City Council, Keighley Town Council, Sport England, the Primary Care Trusts, Education Bradford, the Police and key sponsors to develop an innovative and progressive programme.
The Community Cougars Foundation, based in Keighley West Yorkshire, focuses on four pillars of activity; sport and physical activity, health, education – literacy and numeracy, social inclusion/community cohesion working with around 11,000 young people every year.