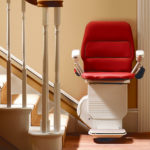 Happy customers – stairlift reviews
17th July 2017
Excellent customer service is something we pride ourselves on and so it is great to receive good feedback from customers. Not only is it a testament to what we do but it gives our employees a well-deserved boost and reinforces that what they do is so important to us and to the customer.
We recently received feedback regarding our engineers Ryan and Paul who installed a stairlift in Yeadon, Leeds:
"We received first class service and both of us find our stairlift so easy to use – we couldn't do without it. Your engineers were excellent when fitting the stairlift, so thank you for all your help."
Receiving reviews – whether positive or constructive – are always welcome as it gives us a client perspective and allows us to learn and grow. So, if you have something to tell us, please get in touch.
If you're looking for a stairlift or mobility products and want to see what others have said about us, then we have a review page and we're also on Check-a-Trade. Have a read here:
https://www.a1stairlifts.co.uk/reviews/
http://www.checkatrade.com/A1StairliftServices/
If you want to contact us regarding ordering your stairlift, then either fill in the enquiry form on the homepage or call us on freephone: 0800 6785261.
We'd like to say a BIG well done to the team. Keep it up!