We received first class service and both of us find our stairlift so easy to use – we couldn't do without it. Your engineers were excellent when fitting the stairlift, so thank you for all your help.
K Waite
---
Excellent service and installation was perfect. The engineer gave a thorough explanation of operation. We have no complaints at all.
Mr Bailey
---
Excellent service and very professional. Has made my life so much easier.
Mr Parker
---
First class service! Really good fitters, superb cleanliness and everything was most efficient.
Mr Lindley
---
Good all round business, good engineering team – nothing's a problem. Always work to high standards keep up the good work lads.
---
Thank you for your prompt and clean installation of our stairlift. We would highly recommend.
Mrs Bull, Sheffield, UK 
---
On both occasions, measuring beforehand and fitting on the day, all of your workmen were very courteous and polite.
Mrs Harper, Birmingham, UK
---
A1 Stairlift Services' staff were pleasant and very efficient. We scored them very highly on ease of buying, communication and how likely we were to recommend them to friends and family.
Mrs Driver – Keighley, West Yorkshire 
---
First class service from start to finish – thank you so much for my stairlift. It was very easy to buy from them, they kept me well informed and I'd highly recommend them.
H. Leighton, Haworth, West Yorkshire
---
We are writing to say how pleased we have been with the recent installation of the stairlift supplied by your company. Your representative Bob was courteous, kind and very knowledgeable about the range of stairlifts available and was able to recommend the one most suitable to our needs. Installation was within two days of our first visit and was conducted very quickly and cleanly. Bob and his colleague were again very courteous and patient with us when demonstrating how to use the lift. All in all, a wonderful service one which we would gladly recommend to others.
D Berry – Bradford, West Yorkshire.
---
After a disappointing encounter with another well known local stairlift manufacturer and their high pressure sales techniques, how wonderful to deal with a friendly and professional company like A1 in Keighley. Everybody from the person that first answered the phone and the man who came round to the house to give us a quote to the man that did the fitting was lovely to deal with, and the whole process from initial enquiry to fitting took less than three days and was well within budget. Thank you so much for helping my mother-in-law retain her independence.
Damian – West Yorkshire
---
I live in Keighley, West Yorkshire and called into the showroom to try out the stairlifts before deciding. I spoke to Linda who spent time with me going through the different models. It was nice to be able to test the stairlifts and see how they work. I was then offered a free home survey so that they could come and understand exactly what I needed. I was also offered a reconditioned which is cheaper than a new one, so I saved money and still got the stairlift I wanted. I'm so pleased with my new home addition and now don't have to worry every time I need to get up and down stairs. Thanks A1 for the amazing level of service.
John – Keighley, West Yorkshire
---
I recently needed an unwanted stairlift removing and it replaced with a new one. I am wheelchair bound so it needed doing quickly so that I could get round my home again. A1 Stairlifts helped with both extremely efficiently. Within the same day they had taken out my old broken one and replaced it. The team were lovely, right from the start and helped find the right stairlift for my home. I just wanted to say thanks.
Karen – Halifax, Yorkshire
---
Excellent service from Danny just now. Cheers.
James, Oxford UK
---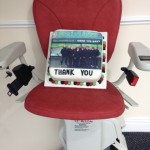 Hope you enjoyed my cake guys. Thank you so so much!
Jean Mayman Wakefield, Yorkshire
---
"I wish to take this opportunity to thank you very much for your help with buying and installing our stairlift. The whole procedure went so smoothly, in a friendly way and with no pressure and I have already passed your name on to other sources which I hope may bring you custom in future."
Mrs. L.A. Forrow, Sheerness UK
---
"My husband and I would like to thank you all for such a smooth operation to install our stairlift. Right from the start with Simon explaining it all, to the end with Danny and Bob speedily installing it, has all gone perfectly. Please thank all involved – we will recommend you to appropriate friends."
Gillian Ryan, Halifax, Yorkshire
---
"Just to say how pleased I am with the stairlift and to have it fitted straight away. I can now do it on my own and I would still be upstairs if I hadn't got the lift. We went for you because the salesman from the other firm was too smarmie and over the top, and I thought you were much better."
Amy Lewis, Cardigan, UK
---
"We are very pleased with the stairlift installed today. The two guys were great and worked well. The whole process of our purchase was made very enjoyable by both the first visit by Danny and all the way to the final installation. Well done for a first class service."
Ann Fishpal, Bradford, West Yorkshire
---
"Thank you very much for your very professional service and swift action – we are thrilled with the results. My other sister-in-law is also looking to buy a stairlift and we shall be recommending you."
Elain Turner, Hassop, UK
---
"I'd like to thank A1 Stairlifts for fitting a curved stairlift into my mums cottage today. It's not the biggest of spaces to work within but they did a great job. I now have peace of mind that she can safely get up and down stairs."
Mick Smith, Birmingham, UK
---
See more testimonials on our Facebook page